This website may contain affiliate links and advertisements so that we can provide you with recipes. Read my privacy policy.
This football charcuterie board is perfect for all your game day or tailgate parties! It's packed with all the perfect finger food that everyone will love and you'll be making this again and again during football season!
Snacks like this charcuterie board are a must during football season! If you want to try a few more of my favorites to have on hand or take to these parties, start with these Thai Glazed Chicken Wings, this delicious (and easy!) 5 Minute Million Dollar Dip, or these Jalapeño Poppers with bacon!
If you're hosting a viewing party, going to a Super Bowl party, or just watching the game from the comfort of your home, you know food is a MUST. After all… that's why I go to parties like this. Not because of the games, but because of the FOOD! This football charcuterie board not only has all the delicious snacks your guests will love, but it looks good.
My favorite part, and what the star of this board is, is the cheese ball in the shape of a football. It stands out and is so easy to make. I love charcuterie boards because you can easily adapt things to the needs of your audience or occasion. Add more veggies, fruits, chips and wings… Whatever you want, this football charcuterie will make just what you imagine!
The Recipe Critic's Recommendation
Large rectangular charcuterie board
17x 12 inch wooden serving board
This cutting board is the perfect addition to presenting your charcuterie and cheese boards.
This charcuterie football board is only football themed because of the cheeseball! It creates the perfect centerpiece on this plate and your guests will love it. You can use a store-bought cheese ball or make one from scratch. Cheese balls are a must on a casual board like this as they go with all the ingredients on the board!
You can use any cheeseball you like for this football, but I love using this Beef Chip Cheese Ball or this Bacon Ranch Cheese Ball. Once it's formed into a football, cover it with some pepperoni slices. Then you can slice up some mozzarella to get that football lace-up look!
Time to add the dips!
With this football charcuterie board (or any charcuterie board for that matter) the dips are SO important! Not only do they add something visually interesting to look at because they sit in bowls, but they are different colors and textures. Plus, you'll need a dip for your veggies (don't worry, they'll come next!)
I've used hummus and ranch dip on this plate to keep it simple. They go with every vegetable, fries and cracker out there, and they are universally loved by everyone! If you want to expand, you can try adding some tortilla chips with some bean dip, maybe a delicious Spinach dip! Change things to meet your needs. That's the best thing about this football charcuterie board!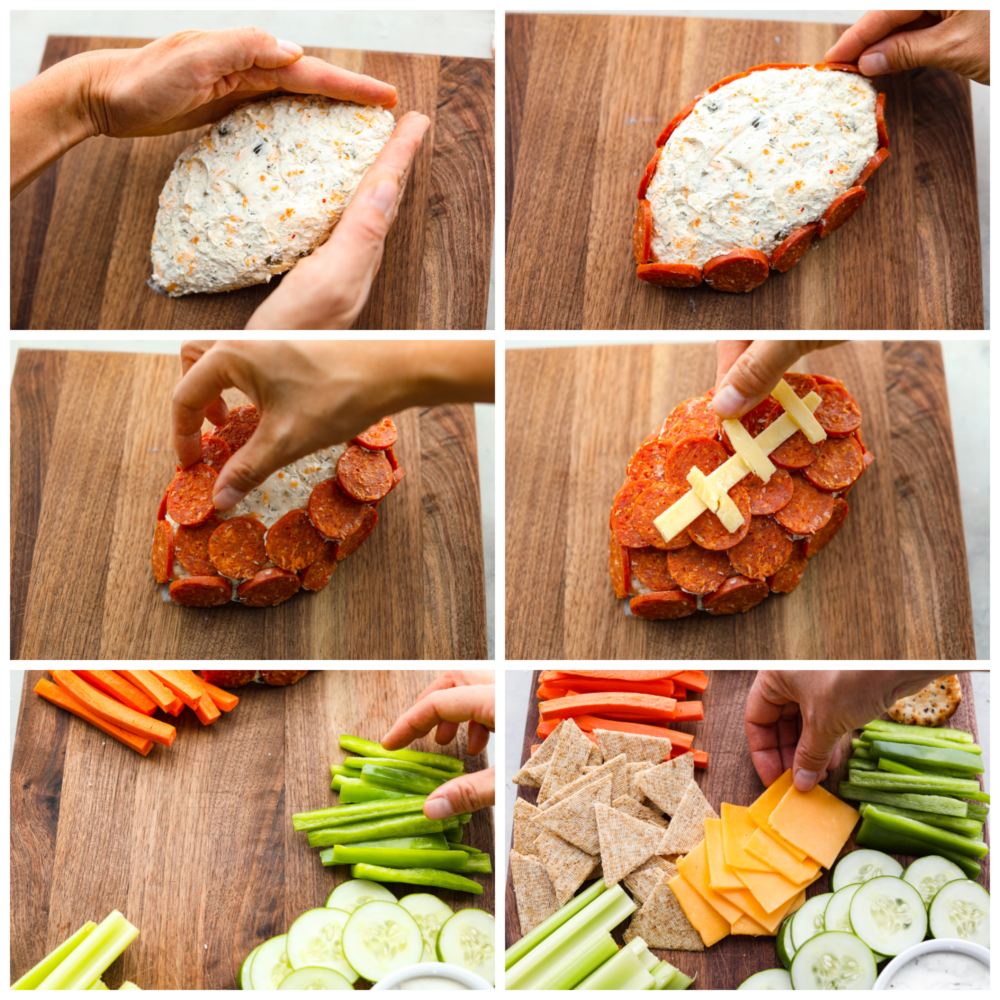 Next comes the vegetables
I love adding veggies to this football charcuterie board, not only because they are healthy and add beautiful color, but also because they are perfect for dipping! They go with just about any dip and keep the plate looking fresh. Since my plate was smaller, I kept my veggies to a minimum, but I think the veggies are always a great place to expand and add extra to the plate.
carrot sticks
Sliced ​​Cucumber
Celery
I've kept it simple on this plate with some classic veggies. But if you want to expand your shelf or don't have these veggies on hand, you can use broccoli, cauliflower, green peas, bell pepper, or any other raw vegetable that adds color and tastes great!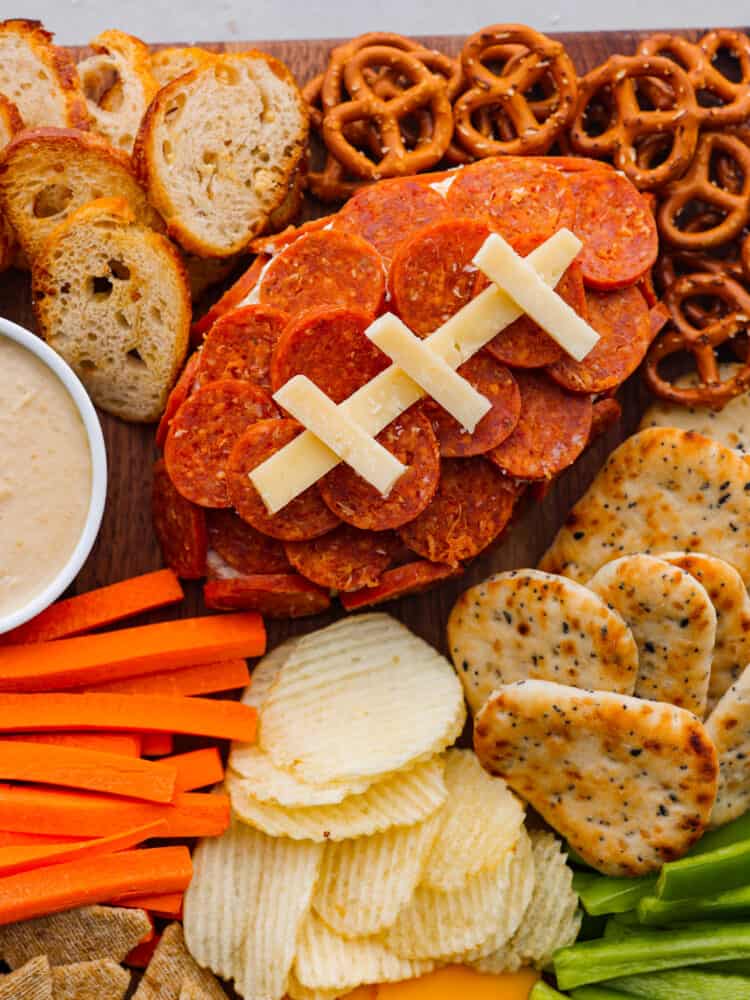 Finally… Add the bread, meat and cheese!
This part of the board is my favorite because I love that it goes with everything on this football charcuterie board! Dip the chips in the ranch and eat the cheese ball with some bread or crackers. Stack the cheese on top of the meat to make a mini sandwich! You can't have a charcuterie board without these three items!
Stone Bread
Crostini Bread
Triscuit Triangles
Ruffles Chips
pretzels
Cheddar cheese
Salami
Again, like all the other ingredients on the board, you can take these suggestions and make them just like mine, or you can change them up. I like the bread and crackers I chose because they are all very different in taste and texture. I chose to use cheddar cheese and salami because everyone loves it! But feel free to add a little more meat, such as Prosciutto. Or add some extra cheeses, such as Colby Jack, Manchego or Gruyere.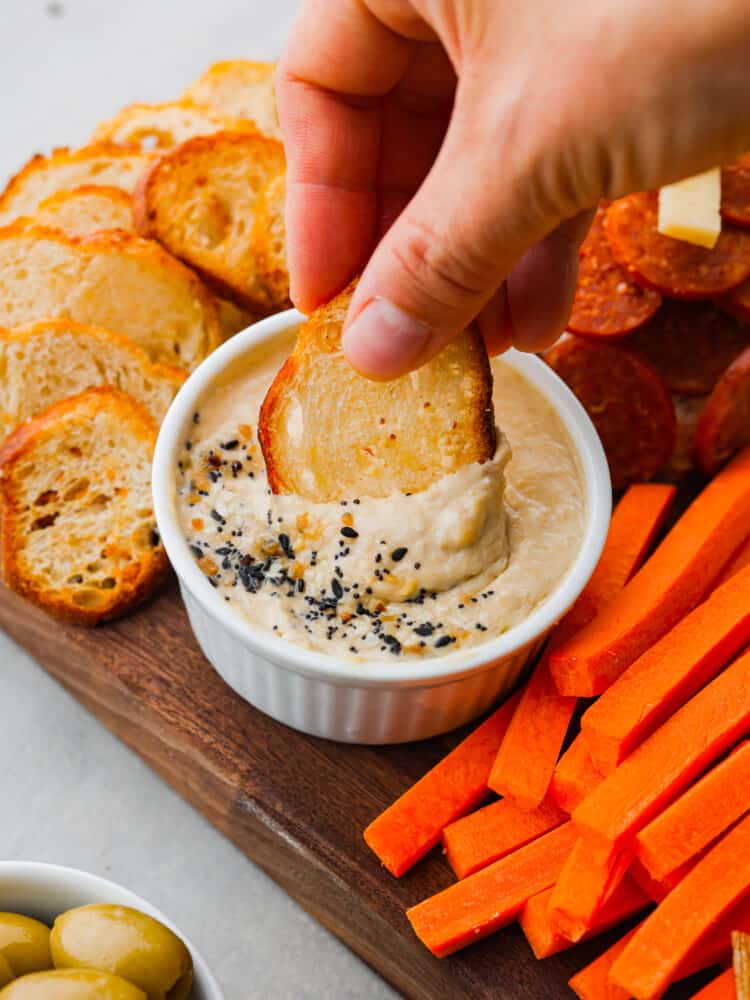 Knowing how to arrange everything on this football charcuterie board is really the part that takes it over the top. Follow these instructions, and the order you put things on and your board will be spectacular!
Shape the cheese ball into a football the board. Sprinkle with pepperoni and cut the Parmesan cheese so that it looks like the stitching of a football.
Place the dips on the plate. Then add the vegetables and cheese. Finally, fill the plate with bread, chips, pretzels, and crackers.
---
Shape the cheeseball into a football on the plate. Sprinkle with pepperoni and cut the Parmesan cheese so that it looks like the stitching of a football.

Place the dips on the plate. Then add the vegetables and cheese. Finally, fill the plate with bread, chips, pretzels, and crackers.
---
---
Serves: 12
All nutritional information is based on third party calculations and is an estimate only. Every recipe and nutritional value will depend on the brands you use, measurement methods and portion sizes per household.